"Do not imprison Christ in you. Let Him live, let Him manifest Himself, let Him find vent through you." (John G. Lake)
John Graham Lake (March 18, 1870 – September 16, 1935), usually referred to and known as John G. Lake, was an American-Canadian leader within the Pentecostal movement that began in the early twentieth century.  He's commonly referred to within the context of other "Generals of the faith" such as Smith Wigglesworth and Kathryn Kuhlman.
Through John G. Lake and his ministries during his African missionary work (1908–1913) and beyond, Dr. Lake played a decisive role in the spread of Pentecostalism in Southern Africa, referred to as "the most successful & influential Southern African religious movement of the 20th century."  (Lake, in five years of ministry, was responsible for raising over 1,000,000 converts, 625 churches and 1,250 ministers).  Dr. Lake and Thomas Hezmalhalch co-founded The Apostolic Faith Mission of South Africa, and the ministries of John G. Lake and his impact can still be felt today.
Mahatma Gandhi praised John G. Lake and his ministries and declared, "Dr. Lake's teachings will eventually be accepted by the entire world."  (As believers, we understand this to be the case because Jesus was core and central of all that Lake did and taught.  Lake made a declaration together with Thomas Hezmalhalch that they would only ever teach and declare what the Word of God clearly reveals.)
Dr. Lake (a title bestowed upon him due to the fact so many people received healing as a result of his ministry) is well known as someone for whom miracles, divine healing, and the power of God was a normal part of ministry as well as every day life.  He opened "healing rooms" in the United States where people could come and attend until they were completely healed from any sickness or disease; this is a very well-know part of the ministries of John G. Lake.  Hundreds of thousands of documented healings occurred in these healing rooms in Spokane, Washington and Portland, Oregon, so much so that the mayor of Spokane personally recognized and thanked Dr. Lake for making Spokane "the healthiest city in the United States."
On one occasion as the South African Government was battling with the many deaths caused by a deadly plague which was sweeping through an area, Lake, wanting to go in and help, scooped some saliva and foam from a dead man's mouth and told the doctors to observe the disease under a microscope.  After doing so, he took the foam into his hand again then put it back under the microscope.  This time the deadly disease was eradicated.  Dr. Lake explained "the law of the Spirit of life in Christ Jesus has made me free from the law of sin and death." (Rom. 8:2)  He explained how the Life of God in a believer could eradicate sickness and disease — hence the doctors allowed him to go and help in the plague riddled area.
Dr. Lake attributed Heaven's power in operation through him to understanding the power of what Christ accomplished within every believer — and emphasized it is in this recognition and "being" (one's identity in Christ as a son of God) rather than simply "doing" something.  He taught that when a believer understands what it means to be born again and the ramifications of being a son of God, then living like Jesus is not only possible but is the expectation that God has for every one of His children. "He who says he abides in Him ought himself also to walk just as He walked."  (1 John 2:6)
John Lake clearly believed the words of Jesus and was determined to live them out:  "Most assuredly, I say to you, he who believes in Me, the works that I do he will do also; and greater works than these he will do, because I go to My Father. And whatever you ask in My name, that I will do, that the Father may be glorified in the Son. If you ask anything in My name, I will do it."  (John 14:12-14)  
In observing Lake's life and ministries, one would understand that God didn't just "drop" a special anointing on him at some point to heal the sick and operate in God's power.  During his childhood death claimed a number of his siblings, and even tried to claim his wife later on.  This ignited a hatred for sickness and disease that caused him to study the scriptures on Divine Healing under the ministry of John Alexander Dowie.  Lake discovered that the Word of God clearly indicated God's stance on the subject:  Paid for in full by the blood and suffering of Jesus Christ.  Therefore faith in Jesus was the remedy, and an authoritative declaration and application of faith in His name was the means to eradication.  It was this understanding that propelled Him forward to minister healing to those in need, as well as teaching others to do the same.
Divine Healing Technicians
Those who sat under the ministry of Dr. Lake and wanted to work with him to heal the sick underwent a study of scripture which resulted in one thing being clear — it's always God's will to heal, because Jesus suffered and shed his blood on our behalf for our healing — spirit, soul, and body.  Dr. Lake pointed to many scriptures which revealed this fact. (e.g. Isa 53:4-5, Mt. 8:17)
At the end of the Biblical training, each candidate would then receive the name of a terminally ill person.  The individual would then go to that person and minister to them until they were healed.  If healing did not occur, they were not to return to help Dr. Lake.  Those who did succeed began to work alongside Dr. Lake and he referred to them as "Divine Healing Technicians."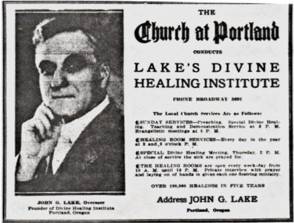 The term "technician" has to do with the fact that Lake believed the healing power of God was reliable and available as a "spiritually scientific" fact — in other words, that God didn't pick and choose who to heal, when to heal, if to heal, etc … but rather God simply responds to faith in Him.  Indeed, this is what Jesus taught as well.  (Mk. 9:23, Lk. 17:6, etc.)
The LIFE and POWER of CHRIST in YOU
If you'd like to get equipped with the same Biblical knowledge John G. Lake understood to propel you forward in faith and the fullness of Christ, we encourage you to click HERE to view the "LIFE and POWER of Christ in You" training seminar.  We also extend you an invitation to visit us in Johannesburg — it would be great to meet!
Click on the button to read about the Divine Healing Technician (DHT) Training which will equip YOU, just as it equipped the Divine Healing Technicians John G. Lake trained.
God's Generals: Believers who BELIEVE & TAKE ACTION.
For the glory of God; the salvation of mankind; the freedom of the oppressed; the liberation of the bound; the relief of the suffering.
"The Spirit of the Lord is upon Me, because He has anointed Me to preach the gospel to the poor; he has sent Me to heal the brokenhearted, to proclaim liberty to the captives and recovery of sight to the blind. To set at liberty those who are oppressed; to proclaim the acceptable year of the Lord." (Luke 4:18-19)
"Behold, now is the accepted time; behold, now is the day of salvation."  (2 Cor. 6:2)  
"For all the promises of God in Him are Yes, and in Him Amen, to the glory of God through us."  (2 Cor. 1:20)